24mm 3/4 Ct Diamond Hoop Earrings in 14k Yellow Gold
Call Toll Free:
800-454-0511
Reference this item by
Web ID: 6945
These stunning diamond hoop earrings make an elegant finishing touch to your ensemble. The diamond hoops are set in 14 karat yellow gold and feature .75 carat total weight diamonds. The hoops have a 24.70mm diameter.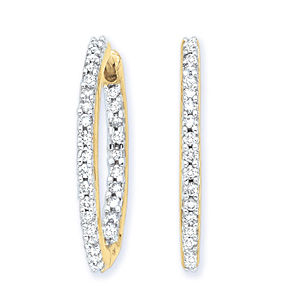 Actions
Our Diamond Inventory
Choose From Over 100,000
Diamonds at Great Prices
x
Thank You!
Your Price request was successfully submitted, and one of our sales associates will be with you shortly. You should also recieve a confirmation email.
Continue Shopping